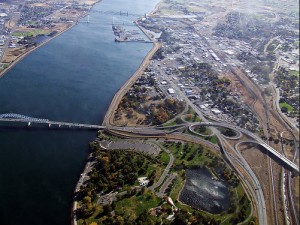 Cedar Mountain has been hand-assembling spa covers in the Northwest and serving the Tri-Cities for over 35 years. These covers are consistently made with high quality material, and the customer in mind.
Currently, there are several dealers in the Tri-Cities, including:
Mirage Pool and Spa, America Pool and Spa
Leisure Pool and Spa
Pallis Pool and Patio
These dealers are available and ready to meet all your spa cover needs.
About Tri-Cities
Tri-Cities is a group of cities that are located in the South Eastern part of Washington State.
Pasco was incorporated in 1891, Kennewick was incorporated in 1904, and Richland was the last to be incorporated in 1910.  The combined populations are approximately 195,000 people.
The climate is referred to as "semi-arid", and about 6 inches of rain falls on the Tri-Cities.  There are more than 220 clear days, on average, to be enjoyed.
Historically, the economy has been rooted in farming; therefore, the restaurants in the area pride themselves on serving fresh cuisine to residents and visitors.  The Spudnut Shop is a family-run favorite hot spot, since its inception in 1948.  The Travel Channel has featured the Spudnut Shop for their famous donuts that are made from potato flour, and then fried to perfection.
Carmine's is an Italian restaurant that serves delicious meals from a historic home, built in 1929.  Monterosso is another Italian restaurant that serves up traditional meals in a railroad dining car.
Sports enthusiasts love living in and visiting the Tri-Cities because it offers something for everyone, no matter what particular sport you fancy.  In addition to the professional sports teams, everyone can enjoy bicycling, bowling, hunting, fishing, soccer and snow skiing (just to name a few).
Golfing is a very popular sport to be enjoyed in the Tri-Cities.  There are ten courses available from the beginner to the experienced golfer, to enjoy.  Golfers of all levels are drawn to Washington State because of the pleasant all-year climate.  Also, there are seven parks on the river, and three skateboarding parks for all ages to enjoy.
Water sports, such as water skiing, boating, swimming, kayaking, paddle boarding, and windsurfing, are also enjoyed in this area.  Tri-Cities is a perfect place to plan your next vacation.
Become a Spa Cover Dealer
There are over 150 Cedar Mountain dealers nationwide, who are available to offer you and your family courteous assistance and a top quality product.  It is easy and convenient to find a dealer near you; simply visit the dealer locator.
To find out more information about how to become a dealer in the Tri Cities area, please fill out our new dealer registration form or call us at: 208-772-9176.